Master User Creator [PowerShell GUI Software] v2 Update
Master User Creator [PowerShell GUI Software] v2 Update
I usually do not post articles on updates to software that I write but there are so many great updates in Master User Creator V2 that I had to make another write up. Master User Creator (MUC) is a piece of software that makes creating Active Directory and/or Office 365 users easier and more efficient.  One of the drawbacks of creating a user in Active Directory Users and Computers (ADUC) is that you have to first create the user, and then find the user and edit their attributes, modify group membership, and so on. Master User Creator give you one single interface that allows you to modify membership, permissions, licenses, attributes, and so on. You can create an AD and Office 365 user at a single time as well, even copying your AD User attributes with a single click of a button.
Since publicizing the software, I have gotten many GitHub feature requests, LinkedIn message, and E-mails of additions that would make MUC even better, as well as having people and companies find the project and tell me they were looking into similar software such as Z-Hire (up to $2,500), or ADManager Plus (quote price).
This post will talk about MUC's new features that you will find in version 2. If you would like to read the original post that includes all of the other features you can find it here.
User Interface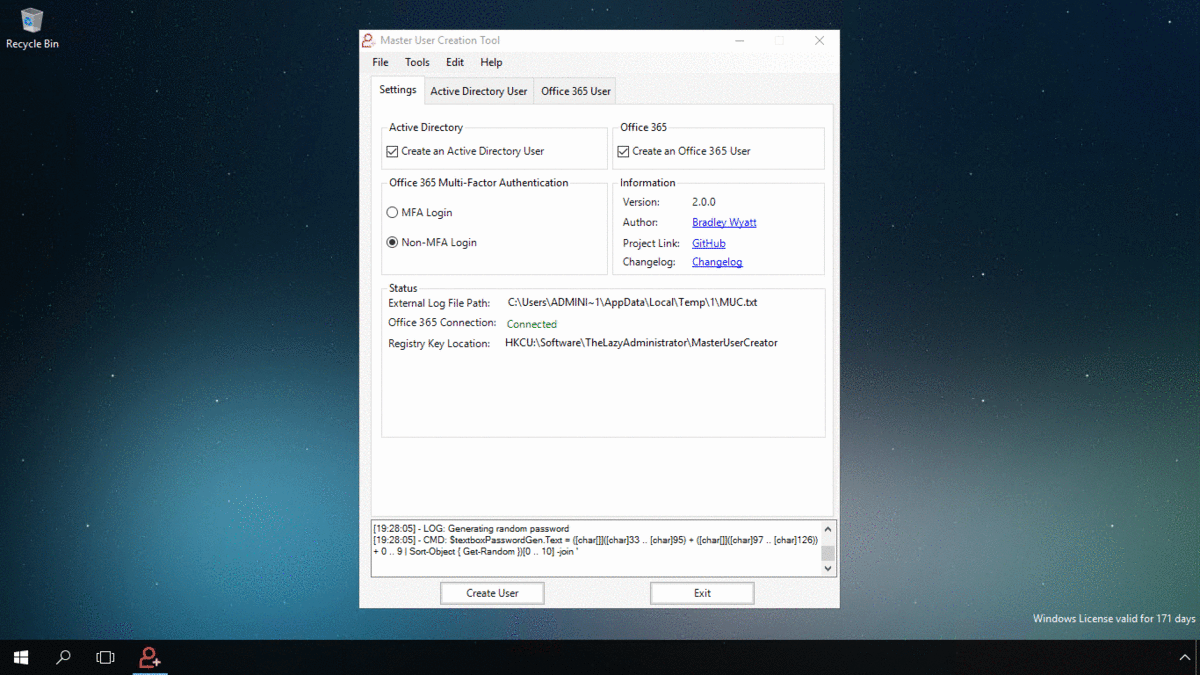 New Features
Dark Mode
Version 2 introduces a system wide dark mode. The main UI, as well as pop up messages, options UI, etc. carry a dark theme. The dark theme takes place instantly, no need to close and restart the application.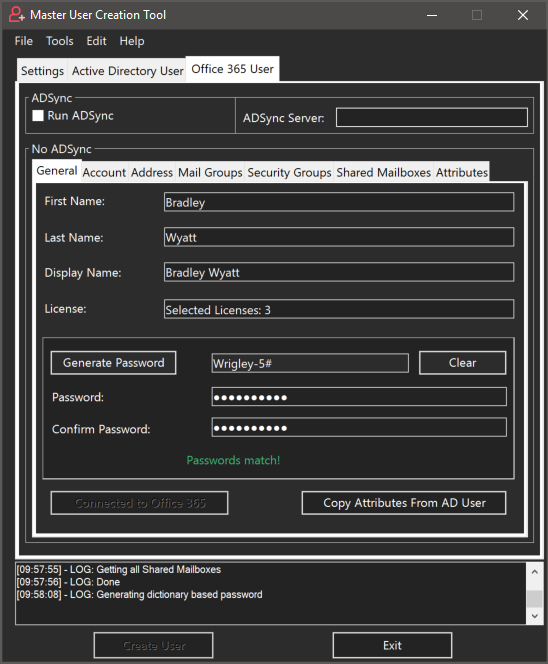 Office 365 and Active Directory Templates
One of the most requested features was the use of templates. Administrators set up AD or Office 365 users to act as templates and wanted to create new users based on these templates. Now you can select any user in either AD or Office 365 and copy items like group membership; attributes such as office, address, job title, company, profile path, logon script, etc.; and password settings (user must change password at next logon, user cannot change password, and so on).

Group Filtering
Group Filtering allows you to filter the groups to a search query. You can search for only groups that have the word "Admin" in them if you'd like. The filtering takes place in real time so as you type it will begin filtering the content to your query. Un-filtering the data will filter backwards until you have the original data set.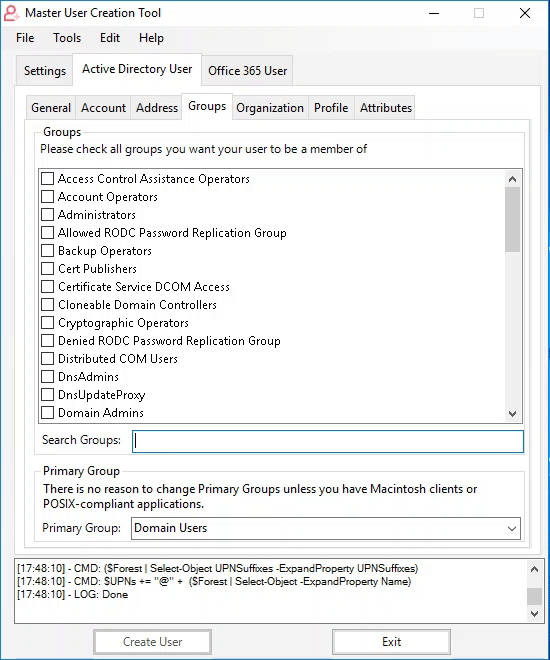 Multiple Licenses
With the amount of Office 365 licenses and add-on's, you may find yourself applying more than one license to a user. Now you can add 1 or more licenses to your users. Licenses will also still appear as a friendly name to make it easier to understand which license is which. No more having to lookup the SKU.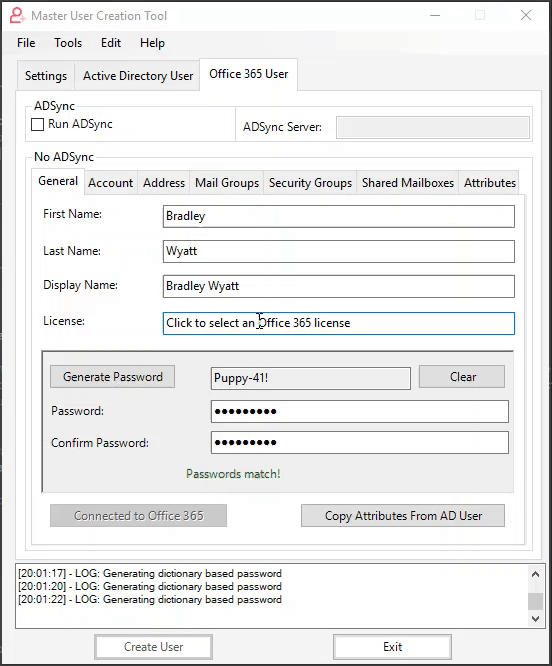 Variable Based Formatting
Variable based formatting allows you to modify how you want certain attributes to be formatted. This allows you to ensure that your users attributes formatting remains constant throughout your organization, no matter who created which user. For instance – if your users User Principal Name (UPN) is usually formatted "EmployeeNumber – LastName" you can modify the UPN format to be "%EmployeeNumber% – %LastName%". Some companies may also have the email formatted as "FirstName"."LastName"@"UPNDomain". You could achieve this by making the Email format be %FirstName%.%LastName%%UserPrincipalNameDomain%. The variables encapsulated in percent signs are not case sensitive. MUC will also show you all the variables that are allowed, the corresponding attribute and some examples.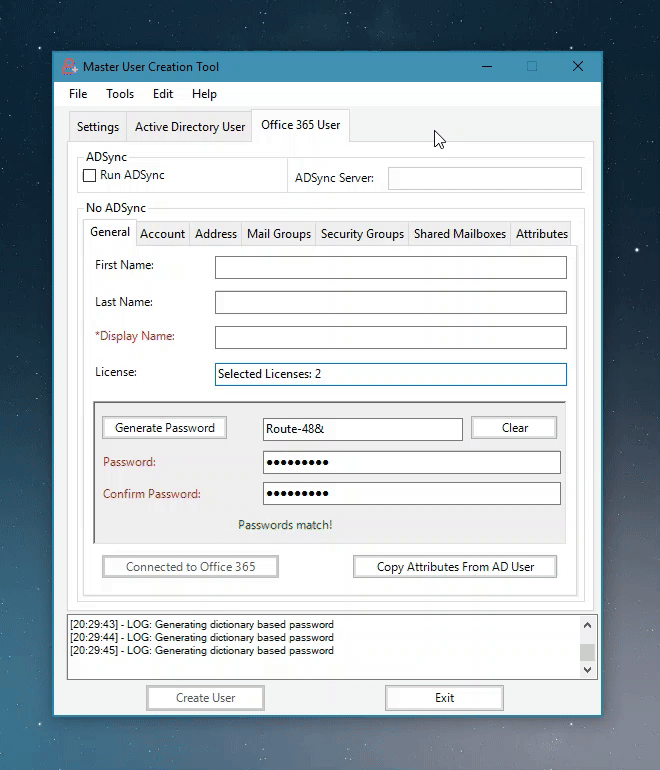 Title Case
Title Case is available as a configurable option on a attribute by attribute basis. So if you make First Name and Last Name enabled for Title Case, if a user enters "brad" as the first name, it will change it to "Brad", "wyAtT" for the last name will auto correct to "Wyatt". This ensures consistency across your environment, no matter who created which user. Upper Case and Lower Case options will be added in the near future.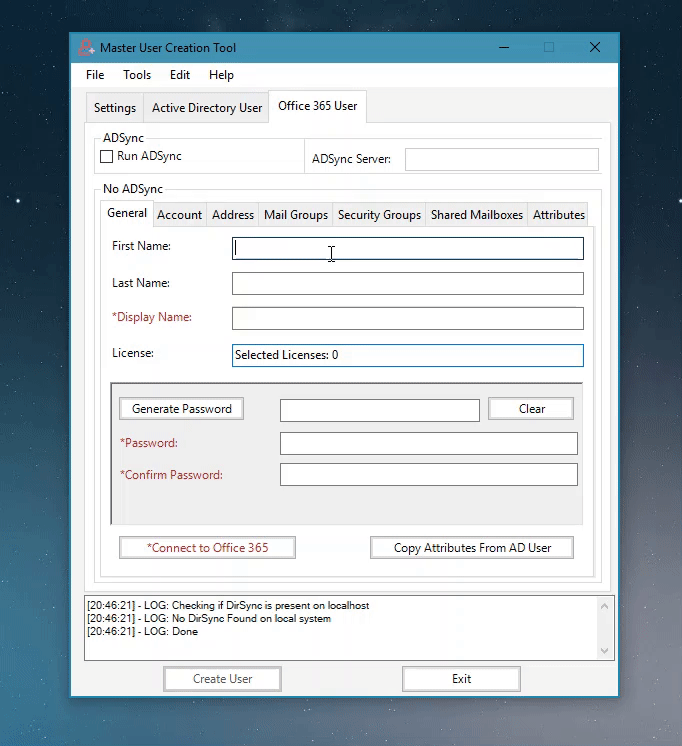 Random & Dictionary Based Password Generator
When I am creating users I tend to come up with a generic temporary password for them and allow them to reset it to something they prefer. MUC now allows not only a random password generator but a dictionary based password generator. This allows you to set the password to something secure but easier to remember. When setting a password for Office 365 users it will not allow it to exceed 16 characters as that is the limit that Office 365 currently allows.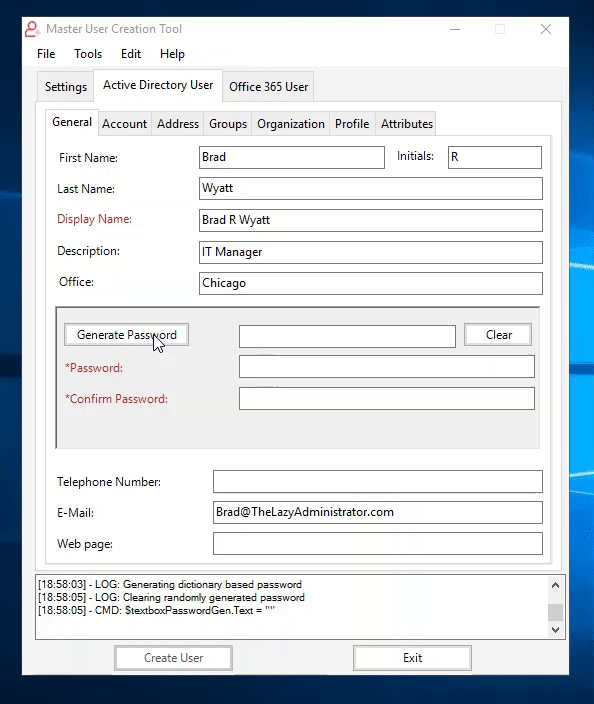 Prerequisites
PowerShell v3 or higher with Execution policy set to RemoteSigned or Unrestricted
MSOnline Module (If configuring O365 User)
Active Directory Module (If configuring AD Users, It can run on a domain joined machine with RSAT tools installed as well as on domain controllers)
Source and Download
The program is all open sourced and hosted on GitHub. If you would like to just download the .exe file you can find it here.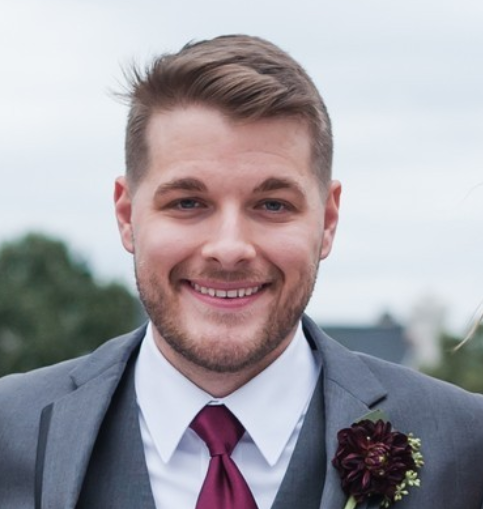 My name is Bradley Wyatt; I am a Microsoft Most Valuable Professional and I am currently a Cloud Solutions Architect at PSM Partners in the Chicagoland area.